Arthur Miller: The Moral Voice of the American Stage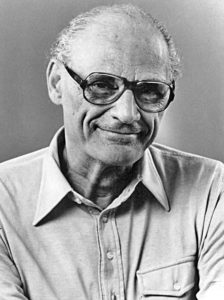 Most people know of playwright Arthur Miller from his esteemed and award-winning texts or his infamous marriage to Marilyn Monroe in 1956. While not much is commonly known about Miller's personal life and upbringing, one could argue it inspired his play, The Price. Although he never outwardly confirmed this, it is clear to see when looking at Miller's memoir, Timebends, that his familial conflicts must have inspired the characters in this play. Instead of using political conflict (i.e. The Red Scare compared to Salem witch trials in The Crucible) or psychological realism (i.e. Death of a Salesman), The Price draws from the real life of Miller and his own brother.
The Price is gripping drama about two brothers that come back into contact after many years to deal with remaining household items and furniture left behind by their late father. Victor Franz has sacrificed his own ambitions to look after his unwell father, but his brother Walter had gone on to become a successful surgeon, sending minimal support back to his family. Not-so-coincidentally, Arthur Miller had an older brother, Kermit, who gave up his own ambitions to help their family during a time of great struggle. In the wake of The Great Depression, Kermit dropped out of New York University to provide relief to his struggling family, but Miller went on to University of Michigan where he would graduate with many awards as a dramatist.
However, Miller claimed his work was more about creating the past than reliving his own. Noticing the trend of the 1960's theatre, Miller sought to write characters that weren't just symbols for some larger artistic meaning, but instead real people with pasts that interfere with the lives they live now. Miller said, "The Price grew out of a need to reconfirm the power of the past, the seedbed of current reality, and the way to possibly reaffirm cause and effect in this insane world." Because of Walter and Victor's decisions made earlier in life, the material objects in their father's attic aren't the only thing with a price tag. Actions from yesteryears have their own consequences that created the circumstances of the present, making them a hard sell.
The New York Times called The Price "…One of the most engrossing and entertaining plays that Miller has ever written. It is superbly, even flamboyantly theatrical." It was nominated for two Tony awards in 1968 and has been revived on Broadway four times since. Arthur Miller has been commonly referred to as the moral voice of the American Stage, as many people can relate to the themes and messages of his work. Miller himself said, "The job of the artist is to remind people what they have chosen to forget." This of course begs the question, what is the price of letting go of the past?
The Price plays at ICT May 8-26. Previews: May 8 & 9. Run: May 10-26, Thurs-Sat 8 PM; Sun 2 PM. Tickets: https://bit.ly/2HhZ877
Beverly O'Neill theater at Long Beach Performing Arts Center (330 E Seaside Way, Long Beach 90802)